Buying a Foreclosed Home: What You Need to Know
Buying a foreclosed home is now becoming more of a financially viable option for many people looking to buy their next (or first!) home. Because of the stigma around foreclosed homes, many buyers don't know how to buy a foreclosed home or its benefits.
What is a Foreclosed Home?
A foreclosed home is a home that has been removed from the owner's possession because they have not been able to keep up with the payments on the house.
If the home has been purchased with an FHA loan, the house is foreclosed, and ownership goes back to the Department of Housing and Urban Development (HUD).
If the home was purchased with a home loan through a non-government lender, then the home becomes property of the bank behind the financing.
Either way, several steps go into foreclosing a home and several ways one can be sold.
How to Buy a Foreclosed Home
Unlike conventional home buying, there are actually several steps to selling a foreclosed home, each with its own set of rules and ways of payment.
Pre-foreclosure. A pre-foreclosure is a sale that happens prior to the home being officially foreclosed. Typically, in this stage, the lender has notified the homeowner that they are behind in payments and given a period in which they can catch up. If the owner cannot catch up on their payments during this time, the house will be foreclosed. It's important to note that during this period, the homeowner can try to sell it to get the debt off of their shoulders and prevent the negative impact a foreclosure would have on their credit history and ability to get loans in the future.
Short Sales. A short sale happens when the property is worth less than the outstanding balance of the mortgage. This can be for several reasons like the number of repairs it needs, the drop in home value in the properties surrounding it, or the state of the real estate market. When this is the case, lenders want to try to sell the property quickly to recoup at least some of the money owed on the mortgage and agree to "sell the property short" by accepting an offer that is less than what the house is worth. While you may get the house at a much lower rate than a traditional purchase, the sale itself must be reviewed by the bank that backed the original loan and may take weeks or months to get approved.
Sheriff's Sale Auction. Once the house is officially foreclosed, it can be sold at auction. The vendor approves the auction to get their money back as soon as possible. Law enforcement officials typically conduct these auctions, and the notifications for the auctions can be found in local newspapers and online. With an auction, you'll need to have at least enough money to pay the down payment, though some auctions will allow negotiations on rates if you've been pre-approved for a home loan.
Bank-Owned Properties. Bank Owned Properties are also called Real Estate Owned (REO) properties. REO is a typical listing you'll see when looking at foreclosed homes for sale. It simply means that the ownership of the house has defaulted to the bank that backed the original loan. Many banks have their own REO offices, and it's these offices handle the sale of bank-owned properties.
Government-Owned Properties. If a home was purchased with an FHA or VA loan, ownership of the home defaults to the Department of Housing and Urban Development (HUD), the government entity that oversees housing for low-income families.
A HUD home can be purchased through a government-approved real estate broker, which can be a real estate agent that has successfully handled HUD home sales in the past. You can find a HUD-approved real estate broker in your area by searching online.
Foreclosed Home Buying FAQs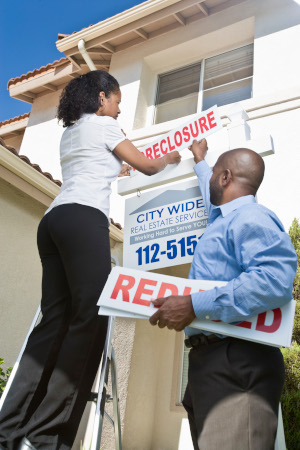 There are a lot of questions you may have about buying a foreclosed home. Here are some of the most common questions, along with their answers.
Q: How do I find foreclosed homes?

A: Foreclosed homes are listed in local newspapers and online sites that specifically list HUD and/or foreclosed homes. You can also use a real estate agent to help you find foreclosed home listings in your area.
Q: Can I get financing for a foreclosed home?

A: Yes! There's a common misconception that you can only pay for a foreclosed home with cash. You can also get financing to purchase a foreclosed home. You can get a conventional home from a bank, loans for renovation like the FHA 203(k), FHA loans, home equity lines of credit, VA loans, and USDA loans (as long as the home is located in a rural area).

For HUD homes specifically, there are many payment assistant programs available to incentivize HUD home purchases.
Typically, foreclosures are purchased by people looking to get a home below market value because they may not be eligible for conventional loans due to low income or poor credit history.
Q: Are foreclosed homes a smart investment?

A: They can be a great investment. If you purchase a foreclosed home below market value that needs some repairs or updates, you may be able to "flip" the house once it's been updated and improved and make money off of its purchase.

Some homes, like HUD homes, however, require you to live in the house for at least two years, or you can face a penalty of up to $250,000 and jail time. This is something you'll want to be sure you understand before you purchase a HUD home.
Q: What does it mean to buy a house as-is?

A: Some foreclosed homes are sold as-is, meaning you cannot negotiate with the seller on updates or discounts on the price due to the home's condition.
Q: Can I still get an inspection for a foreclosed home?

A: Yes. Not only can you get an inspection on a foreclosed home, but you should. It's important to know what you're getting into when buying the home, which is the same thing you'd want to know if buying a home more traditionally.
Q: Are there special fees associated with buying a foreclosed home?

A: There can be. It's important to do your research and have a title search conducted on the home to ensure that there aren't any back taxes, liens, or ownership disputes about the property before you bid on it. Once you become the owner of the property's title, you will be responsible for whatever is owed on it, so it's best to get all of the information before you jump into a bid.
Q: Can I use a real estate agent to buy a foreclosed home?

A: Yes, you can! Some real estate agents specialize in the sale of foreclosed homes. If you're purchasing a HUD home, you will be required to use a HUD-approved real estate broker for the purchase.
Should You Buy a Foreclosed Home?
The answer is up to the individual buyer. For those with low incomes and poor credit scores, a foreclosed home can be an excellent investment. If you're looking to buy and flip a house, a foreclosed home might also be a great investment opportunity.
Be sure to do your research on the property and your financing options. It's okay to turn down a property once you've had an inspection and a title search done. It's always better to do your research so you can ensure that you get the best deal possible on your new home.
Foreclosed homes can be a significant investment as you often get out what you put into them. For some, it may be a few new layers of paint; for others, it may be substantial renovation and rehabilitation. It's all up to the new owner to decide how they want to proceed.