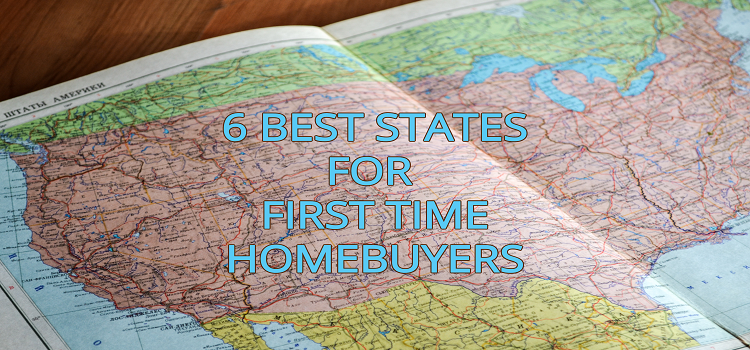 6 Best States for First Time Homebuyers
Saving up enough money to buy a home can be challenging for most anyone, but that burden is particularly heavy for first-time homebuyers. Just coming up with the whopping twenty percent down payment. Over half of Americans do not even have one thousand dollars in savings much less fifty to eighty thousand lying around for a down payment.

The good news is you may not necessarily need the full twenty percent down if you are a first-time homebuyer. The average down payment is more around eleven percent, and among buyers under the age of thirty-five, it is even lower at around eight percent. However, even at eight percent in some areas like Los Angeles, San Francisco, or New York City eight percent is can still hover around forty to fifty thousand dollars.

Some states though offer up some great incentives and programs for buying a home. Most of these programs benefit first time buyers with a lower than average income. Let's take a look at some of these programs and which states are the most friendly for homebuyers.


Best States for First-time Homebuyers

California

The GSFA's "Golden State Finance Authority"' Platinum program provides all homebuyers with grants which can be used towards up to 5% of the down payment. Since these are grants, they never have to be paid back. To qualify for the programs, the applicants have to meet certain income guidelines and have a credit score over 640

Illinois and Wisconsin

Chicago has a program that also provides grants through the Federal Home Loan Bank. This grant program is called Downpayment Plus. Like California, eligibility to participate in the program has an income requirement. The program will pay three times the amount the buyer pays toward a downpayment and works for all homes purchased in either Illinois or Wisconsin.

New York State

New York has its Down Payment assistance loan for up to three percent of purchase price of the home, up to a maximum of fifteen thousand dollars. This loan has zero percent interest, no required monthly payments, and does not have to be repaid provided you do not move for ten years.

Texas

Texas has a program offered through the state's affordable housing corporation. This program offers down payment relief up to five percent of the homes purchase price. This assistance never has to be repaid and is only available to those in certain professions, such as firefighters, police officers, teachers, military veterans, and others.

Virginia

In Virginia, the Department of Housing and Community Development provides conditional grants between ten and the full twenty percent. These grants never have to be repaid provided you do not move any time shortly.

If you're in the market for a new, then check out listings of lease-to-own homes in your area or one these great states.