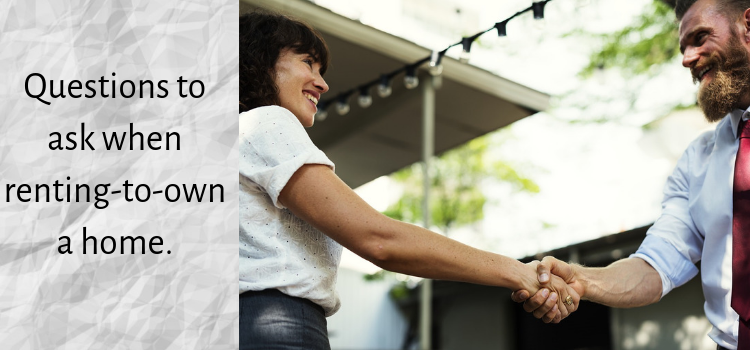 Questions to Ask when Renting-to-Own a Home
Looking for a rent-to-own home can be an exciting experience. While it's exciting to start picturing yourself in your new home, it's important you don't get too caught up in the moment. This is a big decision that can impact you and your family for years to come, so make decisions wisely. The best way to make an informed decision is to ensure you have all the facts and information available to you. You can do this by asking the right questions throughout each stage of the process.


We've put together a list of common questions to help you along the way:
Questions to ask before renting-to-own a home:
How much monthly rent can I afford?
It's important to look at your budget and make some honest calls about how much rent you can afford each month. Remember, unlike renting an apartment where you lose the cash, renting-to-own is an investment you are making in the home.
Will I be able to put money toward a down payment?
Many homeowners will require a security deposit on the home. Ideally, you should have some cash saved up for this. The benefit of rent-to-own deposits is that they are generally smaller than mortgage down payments, however, you should still have a good 5 - 10% of the home price saved.
Can I realistically improve my credit rating within the next 5 years?
While renting-to-own is a great option for those that do not qualify for a traditional mortgage loan, the rent-to-own agreement states that you will need to purchase the home after a set number of years. In order to not lose out on the payments you've made toward the home, you need to be in a place where you'll qualify for a loan on the remaining balance to purchase the house.
Questions to ask the homeowner:
What is required to move-in?
This will be first month's rent, last month's rent (if required) and any security deposits the owner is demanding.
Who will pay for home maintenance during the lease period?
This is an important question to ask because technically a large part of your monthly payment is still going toward rent which in many states makes the home-owner legally obligated to fix any maintenance issues.
How long is the lease-period before you have the option to buy?
This will give you an idea of how long you have to save money toward the purchase price and repair your credit so you have a better chance of getting approved for a loan.
How much of the rental payment is credited toward the purchase price?
This amount is negotiable with the homeowner and you want to agree on a fair price. Generally, around 20% is considered fair.
Is the home currently in need of any repairs?
If the home is currently in need of repairs, make sure you agree on who is responsible for fixing these items. If the homeowner wants you to fix these, see if you can negotiate the final purchase price of the home since the repairs needed may lower the value.
Do you allow pets?
If you have or are considering pets it's important to ask if pets are allowed under the lease contract or if the owner will require any extra deposits or pet-rent added to the monthly fees.
Questions to ask about the contract:
Is there a provision in the lease that allows you to extend the time you're leasing if you are unable to qualify for financing to purchase the home?
In some instances, you may not be able to improve your credit rating enough to obtain a mortgage at the end of your lease period. It's important to know what you can do to protect your investment in advance of signing the contract. For example, can you get a 1-2 year extension that provides you additional time for credit repair?
How can I verify the homeowner is making their payments on the mortgage as promised?
The last thing you want is to pay rent and fees toward a home that is eventually foreclosed because the homeowner wasn't holding up their end of the bargain. Some contracts will have stipulations that will allow you to contact the original lender to make sure all payments are being made on time. This is a good idea to protect yourself while you're still renting.

Having the answers to these questions will put you in a much better situation when talking to home-owners and when reviewing lease agreements. Remember never to rush into any situation without fully reviewing all legal aspects ahead of time.